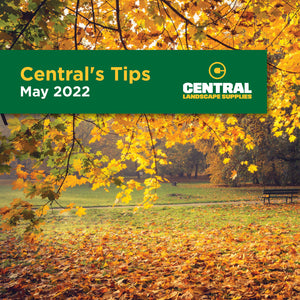 Central's Tips May 2022
Prepare beds for winter planting of garlic and strawberries, protect young seedlings against slugs and snails. Time to plant the winter herbs and get clever about sourcing a cold frame to help vegetables along in winter.
Download the Central's Tips for May 22 
Plant now for winter flowers and scent, identify your favourite autumn trees. Use gypsum on areas that get boggy and use Lawnganics ROOTS on the lawn and around plants to build strong roots. A clean-up copper and oil spray is beneficial.
The fruit and vegetable garden
Prepare beds for traditional mid-winter crops such as garlic, onions, asparagus, and strawberries. Compost, blood and bone and Aquaticus Soil Conditioner (ground mussel shell) are all ideal.

Chinese Snow Peas can be sown from now on, but ensure you have a wall or a frame for them to reach their mature height of 1.8metres.

New winter vegetable seedlings such as cabbage and broccoli need to be protected from late season attacks by caterpillars, slugs and snails. Spray for caterpillars or use slug bait around seedlings.

Check lemon and other citrus trees for scale infestations on the backs of the leaves in the form of hard brown lumps. Spray with mineral oil.

Place pots of winter herbs by the kitchen door – thyme, rosemary and bay leaves are staples for infusing flavour in cold weather food.

If your maturing feijoa and citrus fruit have been attacked by guava moth, make a note for the coming spring season when traps can be used to control them.

Need a cold frame to grow vegetables? A cheap and easy solution is a demolition window frame that can be lent against the house or shed in a sunny spot.
The rest of the Garden
• Get hardy cold season annuals in for winter flowers. Plant polyanthus, poppies, primulas, pansies wallflowers, stock, sweet william and cyclamen.
• Loving the autumn colour? Take photos of the trees and shrubs you like then take them to your local garden centre. They'll be able to identify them and let you know what they'll need to grow well.
• Plan for some winter scent - wonderful, scented flowers in winter include daphne, wintersweet, boronia and the Burkwood viburnum.
• Organic product Lawnganics ROOTS should be applied now to give some extra nutrition to build winter resilience in the lawn.
• Mulching helps: a layer of mulch around prized plants neatens the look for winter and has benefits such as protecting exposed roots from cold, limiting weed growth and evenly dispersing heavy rainfall.
• Boggy areas developed in winter? Apply a layer of gypsum to those areas, to open up the clay and aid drainage.
• Once leaf fall is finished, a copper and oil spray over deciduous fruit trees helps strengthen against disease and stops scale developing.
Project for May
Nature's Planting Time
With more time at home these days, take the opportunity to get new plants established. Late autumn is a great time for this because shrubs and trees have time to settle into their surroundings before winter hits in earnest. Plant into weed-free Living Earth Garden Mix which has plenty of fertiliser included to nurture everything.