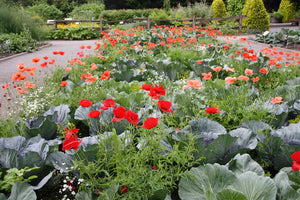 Garden tips for March
The fruit and vegetable garden
Food shortages make growing food at home a sensible alternative. In any sunny sheltered patches of the garden add compost or Garden Mix and sheep pellets to the soil.
Plant out seedlings of cauliflower, broccoli and sow carrot, parsnip and silverbeet seeds.
Feed citrus, feijoa and fig trees as the fruit develops. This is necessary after a very rainy season to ensure good sized fruit.
Cover late season blueberries, raspberries and ripening grapes with bird netting as the birds get braver and hungrier.
Get adventurous with cold season vegetables – plant seedlings of broccolini, purple sprouting broccoli, green Romanesco and coloured Asian greens.
Shortage of lemons? These plants are great for lemon flavourings – lemon peel, lemon verbena, lemon thyme, and lemongrass – use them together for infusions and syrups.
Prune plum trees now, thinning out the middle and removing dead branches. Pruning now reduces risk of disease.
Rosemary in abundance? Use the woody stems as kebab sticks for lamb or beef. The smell from the BBQ and the meat flavour will be delicious.
The ornamental garden
Digging a drainage channel to divert water? Fill with drainage metal, then add river boulders or gabion rock to style as a riverbed. Plant water tolerant grasses to add interest.
Plant out autumn-toned shrubs and flowers to complement developing autumn colours: NZ coprosmas and grasses often fuse well with ornamental trees that have colour, as do dwarf maples and late flowering hydrangeas.
One last trim and tidy – this should be done with trees, shrubs and topiaries so their growth hardens up before winter. Crisply shaped bushes offer good structure when the garden dies down.
Renovating lawns begins now – fertilise with Prolawn Lawn Booster after a summer of unseasonably heavy rain. Mow often and resow bare patches.
Some cutting back of spent perennials is good housekeeping, but roses and hydrangeas should only be deadheaded as they're traditionally pruned at the end of winter.
This year the soil is warm and moist, making it ideal to plant all those trees and shrubs on sale at the garden centre: Add some compost or Garden Mix and a layer of mulch and they will establish easily.
Early spring flowering bulbs should be planted out now, including ranunculus, freesias, anemones, and crocuses. Crocuses are suitable for small containers and bowls.
Fertilise the winter flowering shrubs such as camellias, azaleas and rhododendrons and apply a layer of mulch around them.
Project for March
Stabilise your muddy property? Lay Jakmat.
For parking access on muddy areas, Jakmat is the ideal surfacing mat, made in NZ from recycled plastic. Designed to take the weight of the boat, RV or extra car, Jakmat is tough and UV resistant. Once installed, all you see are beautiful decorative pebbles. Now that has to be a great investment!