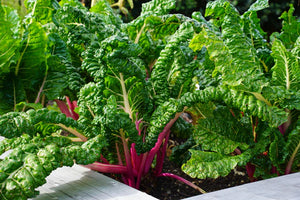 Garden tips for May
The fruit and vegetable garden
Worms don't tolerate cold in winter– place an old rug or piece of carpet over the top of the worm farm to insulate them.
As the weather cools planting seedlings rather than trying to germinate seed is more successful. Plant brightly coloured chard, cabbages, sprouting broccoli and cauliflower. Successive sowings (a month apart) allow a good supply of the vegetable crops that have become so expensive of late.
Strawberry plants are coming: prepare strawberry beds in the garden or pots with plenty of Garden Mix, sheep pellets and keep pea straw handy. If the garden soil has a lot of clay, gypsum will help break it down.
Calendulas (winter marigolds) flower in the cool weather and add colour to the vegetable garden. The edible flowers look yummy in winter salads.
Winter stocks, casseroles and soups can be flavoured with herbs that take you through the cold season – hardy bay leaves, rosemary, thyme and sage are great to harvest in winter.
Olive trees that have been stripped of olives (by the keen gardener or the wily birds) should be given a dressing of garden lime before winter.
The rest of the garden
Houseplants – time to reduce the amount of water that you give indoor plants - most won't need fertilising until September. Keep the leaves free of dust to maintain health.
Tidy up dying foliage and flowers from dahlias, geraniums, hostas and other summer flowering perennials. Place small white marker sticks with the plant name in weatherproof ink beside the crowns of plants that die down completely, so they are not disturbed over winter.
Get hardy annuals in for colourful winter flowers. Polyanthus, poppies, primulas and cyclamen are all good to plant now.
Loving the autumn colour on deciduous trees? Be sure to rake dead leaves off the lawn to allow light to penetrate, otherwise the lawn will die off.
Housework for NZ plants – remove spent leaves and old flower stalks from flaxes; rake dead grass out of native grasses to rejuvenate them, apply snail bait to renga renga lilies.
Remove the coarse, older leaves of winter flowering hellebores (winter roses). This helps bring light to the crowns where the buds are forming and gives a better display during their peak winter flowering period.
Project for May
Concrete adds a contemporary twist
Add concrete sleeper 'steps' in lawns or pebbled areas for access around the garden. For a contemporary look with outsize rectangles, use boxing and add reinforcing mesh then lay the concrete. We recommend 5 40kg bags of Cement mixed with 1 cubic metre of Builders Mix.