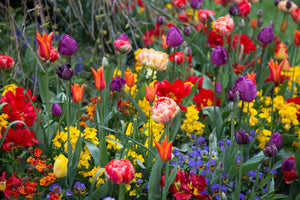 March Tips from Central Landscapes
Autumn's coming and it's time to start preparing the garden for the cooler months ahead.
Condition the soil ahead of new planting, save seeds of summer crops and place straw under ripening pumpkins.
In the Edible Garden
Getting ready for autumn food growing: check the soil which may be depleted after summer crops have finished: dig through compost and

sheep pellets

or top up with more

Garden Mix

.
Tomatoes on tap now. If heritage varieties (old-fashioned types that haven't been hybridised) have been planted, you can begin to dry and save seed for next year.
Cover figs and grapes with bird netting as they ripen.
Plants that grow better as the summer heat lessens: parsley, spinach and coriander.
Sow a crop of sugar snap peas, placing them near to a climbing frame or wall where they can be trained up.
Citrus trees are known as gross feeders so lightly fork compost around them and continue fertilising through the autumn months. Check for scale, which breeds quickly if the plant dries out. It can be controlled with spraying oil.
Plant out kale seedlings. For an architectural look in the veggie garden – not to mention nutritious eating – try Cavallo nero with its large textured leaves
Place straw beneath pumpkins as they ripen. This avoids contact with increasingly damp soil that can cause them to rot.
The rest of the Garden
Trees such as luculias, albizzias and hardy lagerstroemias flower from summer to autumn and provide extra interest and colour to the garden
New seasons bulbs are available now, so choose from a range of tulips, daffodils and hyacinths to plant ahead.
Use natives for wow factor - New Zealand native plants are naturally hardy and survive our sometimes harsh climate well. Use them amongst other plants to create interesting textures and colours in the garden.
Get interesting textures and shapes with the very under-rated muehlenbeckia.
Trim hedges and topiary plants to a crisp shape to give the garden structure through the winter months. Liquid feed and add mulch.
Autumn flower colours tend to the orange, bronzy shades that can be achieved with rudbeckias, gazanias and daylilies. An amazing orange flowered plant, Leonotis leonurus echoes these tones.