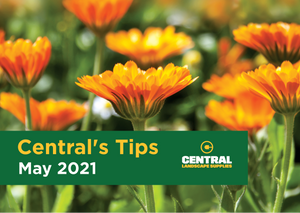 Central's Tips - May 2021
It's cooling down, time to deal to the growing snail population in the vegetable bed, plant a bay hedge, fork compost around and plant edible calendulas for winter colour.
In the Edible Garden
Slugs and snails are still active in late autumn, so lay yeast traps or ground eggshells/ coffee around small vegetable seedlings.
Bay leaves for winter cooking – the bay tree is extraordinarily hardy, so it can be pruned as a topiary feature in the vegetable potager or used as a hedge to shelter softer crops from high winds.
Cut down lupin crops once they're knee high and trim them into lengths of 15cm. Leave on top or cover with soil to break down and add nitrogen.
After harvesting the autumn fruits – feijoas, passionfruit and tamarillos – fork some compost around the roots of the plants to pep up the soil.
Prepare beds for traditional mid-winter crops such as garlic, asparagus and strawberries. Compost, blood and bone is ideal – if your soil is on the clay side add gypsum.
For winter flower power plant calendulas in the winter vegetable garden – they're both colourful and edible.
The rest of the Garden
Autumn colour – great month to choose exotic trees with leaves of gold or orange/red tones – the leaves liquidambars, maples and gleditsias are all turning now.
Remove spent foliage of perennials and layer compost around them and other plants in the garden. If you're planning to lift and divide them, place markers or sticks by the clumps, so you'll find them once they're dormant.
Plant out winter flowering annuals such as cyclamen, polyanthus, stock and primulas. Polyanthus love a dressing of dried blood once or twice over winter.
Clean up fallen leaves off lawns and pathways; lawns invariably die off under wet tree litter, paths become slippery to walk on.
Many NZ shrubs begin to display deeper foliage colours as the season cools – Muhlenbeckia astonii drops its leaves to become a red twiggy mass, various coprosmas range from pink through to chocolate brown and the shrub Pseudowintera 'Red Leopard' deepens to dark red. 
Project for May
Create a firewood stack while it's dry. ECO Hot Mix is an exclusive Central Landscapes blend of 2/3 softwood (fast-burning) and 1/3 hardwood (slow-burning) which will give you cosy winter fires!