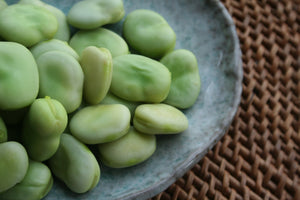 Getting the best out of Broad Beans
Stake - this bean variety makes it through winter with ease - but often they get forgotten when it's cold, because nobody heads into the vegetable patch! Now is the time to straighten the plants, staking them up or gathering them together, so that the both the sun and the bees can see and access the flowers!
Patience - it seems an age between flowering and the pod forming (and then there's weeks to go before harvesting). But it's worth the wait.
Harvesting - Did you know that you can nip the young fresh leaves and throw them in a stir-fry? And the beans are best blanched four or five minutes, then gently rubbed to remove the casing and reveal the bright green bean inside - Delicious!