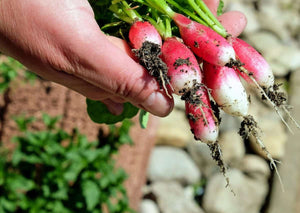 How To Start a Vegetable Garden
More and more of us are getting into growing our own food, but for first timers it's a daunting task, especially getting started. Here's Digger Dan's list of 10 easy steps to be 'eating out of the garden' before Christmas:
Get the site right: Mark out where in your garden you want to grow your veggies - it needs to be getting at least 4 hours of sun every day and to have good drainage, plus shelter from wind.
It starts with the soil: Now work in some of our top quality Living Earth Organic Compost through the existing soil, or if you prefer to layer on a ready to plant mix, fill the bed up with Living Earth Garden Mix OR Living Earth Organic Veggie Mix. If you plan to install a raised bed get one of our raised wooden gardens and fill with Living Earth Garden Mix OR Living Earth Organic Veggie Mix.
For established garden beds, it may pay to add some lime to the soil, but generally if you start with soil containing plenty of organic matter that is nice and friable, other additives are not necessary.
Make a list of what you wish to grow: planning now means that you put in some crops straight away and leave the right space for others later. E.g. tomatoes would be better planted outdoors next month and basil is even later.
Put together a rough planting plan: allow for tall crops such as corn, beans and tomatoes to be at the back of sun-loving shorter crops. Insert stakes for where the beans and tomatoes might be planted later on (stakes for runner beans and tomatoes generally need to be at least 1.8m - 2.1m high).
Plant or sow: Crops that can be sown from seed or planted out now are: lettuce varieties, peas, beetroot and carrots, bok or pak choi, silver beet and spring onions. Remember to grow just enough and to grow successive crops of favourites, so they aren't all ready at once. Six weeks later add the tall crops (see above) and eggplants, capsicum, cucumbers and chillies.
Layer around some slug bait: it's so annoying to find half your seedlings gone overnight.
Feeding: for best results water on Living Earth Organic Liquid Compost at planting and every two weeks. This encourages strong healthy plants.
Watering: Many parts of New Zealand have a lot of rain, but once it warms up in spring, it takes very little time for the ground to drain and dry. If you don't have the time to hose regularly, a watering system may be a good idea.
Flowering plants bring the bees: English lavender, nasturtiums, and flowering thymes add to the edible theme and carry their weight in the veggie patch. Roses, sunflowers and tall salvias such as pineapple sage attract the bees too and add a very decorative look.