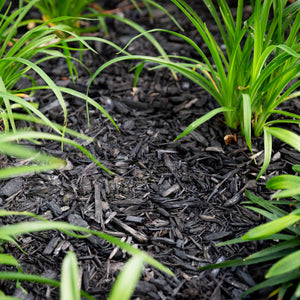 Black Decorative Mulch is saving your garden and Auckland's landfill!
Central Landscapes' Black Decorative Mulch is a wonderful sustainable story that supports Auckland's focus on recycling and reducing waste going to landfill. For over 20 years, Central Landscapes has stocked Reharvest's Black Decorative Mulch and other mulch products. The story of this amazing mulch starts with one man's vision. Watch the Reharvest story:
Black Mulch is the top-selling colour in our range for both residential and commercial gardens. Few people realise that both red and brown mulches are available at selected Central Landscapes' yards. Colour selection is a matter of personal preference and the look you wish to achieve in your garden.
How we mulch: After planting, ensure the garden looks its best by applying a layer of Reharvest black or coloured decorative mulch around the plants to a depth of 10 cm.  A deep layer of mulch suppresses weeds and conserves soil moisture.  
For existing gardens, weed around the desired plants and apply mulch as directed above. Autumn is an ideal time to mulch because it is the last period of growth for many plants before winter, so keeping moisture and warmth at the plant roots will help this seasonal flourish.
Have you seen the soft bed of natural wood chip used in playground surfaces at day-cares, parks and schools? Reharvest Cushionfall installed to a depth of 350mm has been NZS certified to cushion a child's fall from up to 3.0 metres. 
Made from untreated chipped pine, Cushionfall is carefully processed to be free of nails and splinters. In stock at selected Central Landscapes yards and available by order from all our yards, you can use Cushionfall in all playground applications, including home gardens.
Help support Auckland's focus on recycling and reducing waste by choosing Reharvest mulches for your garden beds.