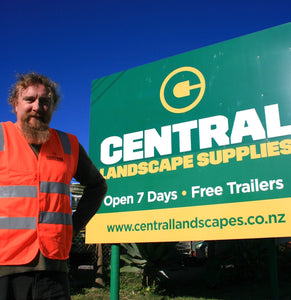 'Digger Dan' celebrates 30 years in the landscape supplies business
"The best thing about my business is the customers," says Daniel Rissetto, owner of the Central Landscape Supplies yard at 598 Swanson Rd. All his customers would agree that Daniel makes them feel welcome and he and his team go out of their way to make sure people get the right advice and products to get the job done.
Digger Dan
Thirty years selling and delivering a wide variety of landscaping products has gone quickly for Daniel, who left school at fifteen to work in his father's Penrose yard, the original Central Landscapes site.
Daniel Rissetto (left), pictured with father Wayne and brother Philip. 
Daniel, often known as Digger Dan to tradies and customers, worked in several of the Central sites before moving to Swanson in 2003 and becoming the owner in 2005.
The Swanson business services the community over a wide catchment area and Dan's trucks are often seen as far as Kumeu and Muriwai, in newly developed suburbs such as Huapai, Riverhead and Hobsonville and around suburbs from Te Atatu to Henderson. Dan notes that there has always been a keen gardening community in the west and lots of his customers and landscapers have been visiting the yard and ordering deliveries for many years.
Serving West Auckland's gardeners
Central Landscapes has a wide range of products for local gardeners and landscapers to choose from. A long association with Living Earth, who make compost from Auckland's recycled green waste, means they can offer the top-selling weed-free Garden Mix, Ultra Lawn Mix and (spring and summer only) organic certified Veggie Mix. Dan has several options for mulching plants to keep the weeds down and the moisture in the soil. Over winter, Daniel's trucks can be seen delivering firewood to homeowners and dropping off GAP metal to enable contractors to access muddy areas. Dan has seen the size of gardens become smaller over the past ten years and he and his staff always ensure that all of the products can be purchased in bags, when a truck-load is not easily managed. 
Central Landscapes Swanson - part of the community
Daniel's wife Nichole is also heavily involved in the business, both on the accounting and operations sides. With three beautiful girls to raise, they are well embedded in local community projects and supporting sports teams and schools.  As community sports facing increased funding challenges, Daniel and Nichole believe helping out in their community is more important than ever.
This is an edited version of the article that appears in The Westerly community magazine.