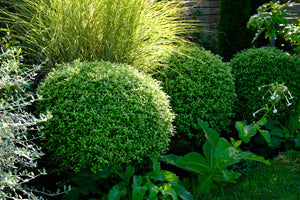 Garden tips for July
The fruit and vegetable garden
Brighten the winter garden – Rainbow silver beet, giant mustard and edible calendula flowers all have great colour.

Sharpen secateurs and loppers and begin fruit tree and berry (raspberries, blackberries etc) pruning. Blueberries are best left until next month.

Aucklanders - It's not too late put in garlic – separate heads into cloves and plant at twice the depth with the pointed end facing upwards.

Frosty garden? On still, cold nights cover young avocado, citrus and tamarillo trees with frost cloth - available at the local garden centre.

Winter lettuce varieties: Head, cos and 'Great Lakes' are all hardier types that cope with cold temperatures, provided they're in a sunny position.
Liquid feeding (
Organic Booster
is ideal) keeps nourishment at the root area for all vegetables and fruiting plants, but granular or slow release fertilisers are a waste of money at colder temperatures.
Planting new season's fruit trees? Some varieties of apples, pears and plums need a pollinator for their flowers. In a small garden it can pay to get 'double grafted' varieties, that have the right pollinator on the same tree. And sometimes your neighbours' trees can help too!
The ornamental garden
Ordering on-line – it's the time to order lilies, gladioli and dahlias. Lilies can be planted now, but keep dahlias and gladioli for planting in October. Dahlias from last year should be lifted and stored in a dry place for the next three months.

Polyanthus provide cheerful bursts of colour in winter: regular dead-heading, plus a side dressing of dried blood will encourage a long-flowering season.

Prune and shape deciduous shrubs: cercis, cotinus, viburnums, roses and philadelphus. They may be looking like sticks now, but they add that extra magic in the summer garden.
Planting new trees and shrubs in clay? Start with a handful of
gypsum
in the planting hole then add plenty of
compost
or
Garden Mix
. Gypsum is known to break up clay soil, but is also an extra calcium burst to help roots establish.

Create structure in the garden by adding plants with defining lines to contrast against more casual plants. Trimmed hedges, pleached trees and evergreen bushes in strong shapes make the garden interesting in winter.

Treat moss in the lawn by watering on iron sulphate or spray with Yates' Surrender. Resowing those areas should be done in September.
Project for July - Lay a drain.
Dealing with muddy lawns and paths can be as simple as draining the water from the area. Our Central Landscapes teams can help you with advice, drainage coil and drainage metal to get you out of the mud this winter.