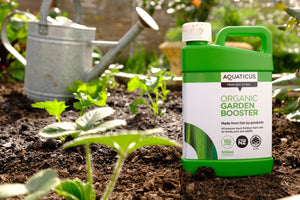 Garden Tips for October
The fruit and vegetable garden
Planting edible flowers with vegetables is a no-brainer - salads become more interesting, the vegetable bed looks pretty and the bees arrive! Flowers to eat include nasturtiums, carnations, daylilies, rose petals and violas.
All the summer vegetables can go in at Labour Weekend – the soil temperatures are warmer, and the sunlight hours are increasing making it ideal for planting!
Despite a year awash with rain, watering has become important: young seedlings and germinating seeds are in the top layer of soil which dries out first. Water daily and if it's becoming dry very early in the season, place pea straw around the plants.
Protect young plants from spring winds with windbreak cloth. Or leave in some of the finished winter vegetables and plant young vegetables and herbs between them. Cold spring winds can be deadly to seedling establishment.
Liquid feed all seedlings at planting – it gives nourishment at the root area and helps get the plants off to a good start.
Tomatoes are especially fast climbing, so construct climbing supports to manage the growth and aid access to picking them.
The ornamental garden
Wage war on the weeds – actively removing or spraying them early in the season, leaves plenty of room for the desirable plants to flourish and reduces recurrent weed growth. Mulching around plants after weeding helps with this.
Fertilise established lawns with Prolawn Lawn Booster. Use a handheld spreader to apply the correct amount evenly. Lawn fertilisers should be watered in after application to avoid burning.
For a summer of flowers plant dahlia tubers, sow seeds of cosmos, hollyhocks and poppies. Daisies, perennial petunias and alstroemerias are all reliably long flowering and appear in garden centres now. Plant with Garden Mix.
Keep the garden healthy with foliar spray of Aquaticus organic Garden Booster. Apply early morning or later in the afternoon.
Rhododendrons and hydrangeas bloom from now onwards. Both plants grow as small or medium sized bushes and they come in a range of flower colours, so they're a worthy addition to a garden.
Fancy some blossom? Most ornamental cherry and crabapple varieties are available now. Plant into Garden Mix or Nutra Soil, stake well and mulch around the new tree.
Project for October
Time to refresh the pots and urns
Planted pots are micro gardens where the plants are being asked to grow under harsher conditions. Re-planting them can refresh the look: use Potting or Garden Mix as these blends drain better and are packed with fertilisers. Fill to within 3cm and layer on mulch to finish the look. Tip: if it's a very large pot, polystyrene can be recycled into the base to about halfway up, saving on mix.