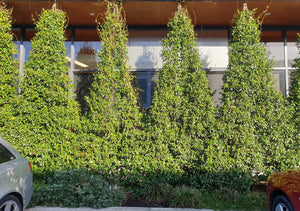 Grow a green 'wall' fast with climbers
Here's a beautiful way to green up a bare wall or provide privacy without building a fence. In this commercial property, Chinese Star Jasmine, a fast growing climber, has been trained to grow up a wire frame.
The beauty of this approach is the climber remains separate from the building structure, allowing light to filter through while offering privacy at the same time.
Chinese Star Jasmine (Trachelospermum Jasminoides) can grow easily in a narrow strip of soil. To improve growth and foliage density, add compost and garden mix when planting the climbers. A regular feed with Aquaticus Garden Booster will also help promote growth.
Green 'walls' offer many benefits, including:
Air purification 
Cooling of interiors during summer
Less disruptive root systems than trees
The wire frame allows you to set the height of your green wall and climbers can be installed in spaces that would be too narrow for a traditional hedge or row of trees.