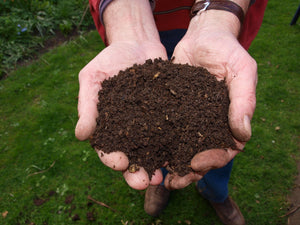 How compost takes your garden to a whole new level
Quality organic compost delivers huge benefits to both soil and plants in the garden. Our Living Earth organic certified compost is ideal because it provides all the benefits without chemicals. Living Earth makes this organic compost from locally sourced green waste, so it's a truly eco-friendly product that benefits all Auckland gardeners!
Here are five reasons to apply compost in your garden:
Compost has great seasonal benefits for soil moisture – it assists in breaking up difficult clay soil and enabling water to move efficiently through soil during winter. By contrast, in summer the same process of lightening the clay is beneficial in helping aid moisture retention – so important in Auckland where lack of water is the gardener's biggest issue.
Compost contains nutrients which are good for enhancing soil biology and for the plants which can use them to grow. Healthy soil is the goal of all gardeners because it can promote plant health including disease resistance.
Compost improves soil texture over time which aids plant growth because their roots can move through the soil with ease.
Compost is excellent at binding and holding fertilisers (chemical or organic) in the soil, so they stay in place and do their stuff, not wash through. Farmers and horticulturists throughout NZ are turning to compost applications to promote crop health and stop fertilisers leaching out of their soils.
Quality compost is 100% weed-free and safe to use, because it is processed to the NZ Composting standard 4454:2007, which stipulates that all inputs must be fully composted.
Living Earth organic certified Compost is just that - 100% organic, no chemicals, no bark or wood chip fillers - just incredible biological activity, ready to work in your soil.
Applying Living Earth Compost
Winter is the perfect time for compost application. It conditions the soil and the plants will have a healthy start when spring arrives. Apply a layer of approximately 50mm of compost over the soil, around plants. Fork the compost lightly through the soil.
Our compost is available by the truckload, the trailer-load or in bags.
https://centrallandscapes.co.nz/products/living-earth-organic-compost
Worth noting:
All the planting mixes sold by Central Landscapes contain organic compost as part of their composition – it's in our Garden Mix, Veggie Mix, Nutrasoil, Ultra Lawn etc. So the benefits of compost are still available when you order our mixes!