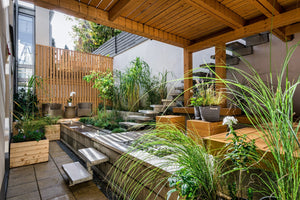 Small Garden? Making the most of your space
Whether you live in a terrace house, on a cross-lease section or in a flat, many of us now have compact outdoor spaces. To maximise enjoyment of the outdoor area, consider what you like doing most when you're outside. Here are some of our customer's most popular projects:
Paved BBQ Area
Create a dedicated BBQ area that invites outdoor living and entertaining. Start by building a level base for your BBQ using
pavers
, a
concrete
pad or a
pebbled
area lined with
sleepers
. If the area is prone to wind, create a hardy green screen by planting tough hedge plants in
Nutra Soil
.
Design note: for a clever outdoor bench beside the barbeque top a rock filled Gabion basket with a slab of wood.
Meditation Space
An outdoor meditation space can be a little sanctuary where the soothing qualities of nature will calm your mind. Choose a spot that is private and reasonably quiet.
Raised garden beds with flowering plants can enhance a sense of privacy and provide an attractive aroma while you meditate. Help the senses and sow a small grassy area here. Walking barefoot on lush grass helps restore your connection with nature and feels amazing!
Outdoor Room/Patio
Extend your living space with paving and gain a whole new outdoor room. Patios give you a level area for outdoor furniture and can be enhanced with planters or pots.  Modern paving options come in many colours and sizes and our popular Feinwerk range is next generation – lighter and stronger – easy to install.  To cover larger areas, use decorative pebbles or white chip (the latter offers good visibility at night).
Design note: Extend the use of the area during the evenings with a fire pit or brazier. (photo courtesy of www.tinyanvil.co.nz)
Vertical Garden
Vertical gardens turn boring walls into lush greenery and are an efficient use of limited space. The most common DIY system for a vertical garden is hanging pots or troughs on a wall. Fill them with Garden Mix for optimum growing results and plant according to the sunlight that the area gets during the day.
A hardy option is a mix of succulent plants because they require little watering, but it is possible to grow lettuces, herbs and summer vegetables, provided they are cared for and fed. Food Note: When growing edible plants in summer get into a daily habit of watering with household water captured in buckets from showers or the washing up.
Water Feature
A small pond, fountain or trickling water feature can help create a restful atmosphere and attract native birds. When choosing a site for a pond, keep away from areas with high leaf fall that will rot in the water. Once you've dug the hole and lined the bottom of the pond, add soil, stones and rocks as a base for your water plants. There are solar powered options for water pumps that make installation easy.
Design note: Surrounding plants: a mix of big leaves, reeds and textured leaves sets off the feature. 
Playground
Get the kids outside with a DIY playground. Options include a sandpit or a hopscotch court. When building a sandpit, level off the area and lay weed mat. Weedmat stops the weeds growing up through the sand but still allows water to drain away. Use chunky sleepers for the edging and fill with East Coast Sand.
Reharvest Cushionfall is a perfect base around swings and climbing frames. Design Note: If you have room, plant a tree for some vertical interest. The right tree provides shade for outdoor picnics and, when the tree and the kids are old enough, a bit of outdoor climbing!