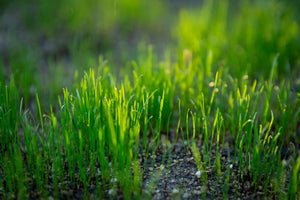 Sowing lawns: go early, go hard.
Ok, the title might be tongue in cheek, but Auckland lawn lovers would do well to heed the advice we've just received from our turf professionals: "Get your lawns sorted early in the spring season – these water restrictions may be here to stay through summer".
You can build 'lawn resilience' by getting the grass roots pushing down into the soil, helping your lawn to withstand dry periods. Due to water restrictions, Aucklanders can't use their hoses to encourage germination, so take advantage of rainfall now to help get your new lawn growing.
Central Landscapes can help with lawn solutions and ideas for irrigation, so read on!
Getting Started
Spring is delivering warmer weather, sufficient in most areas for lawn seed germination to occur within 7-10 days. After clearing the area of weeds, apply a layer of lawn mix to a depth of up to 2.5cm over the topsoil. Top up the cavities to level the area.
Sowing the Lawn
Sow lawn seed, using the specified rate to ensure full coverage, because this reduces the likelihood of weed invasion. For best results, spread seed uniformly over the surface, either by hand or with a spreader. Our all-purpose Tournament lawn seed blend is ideal for sowing now. Do use the right seed for the purpose and remember that it's early in spring, so the grass will take a bit longer to grow than later in the season.
Top tip: Spread half the total amount seed over the whole area then repeat with the rest of the seed. This second application will help give you uniform coverage. The same applies for fertiliser or other granulated products. 
 Apply Turfmaster Starter fertiliser and lightly rake the surface to get soil-to-seed contact, without burying the seed too deep. Lightly roll the ground using a roller.
Try tricking your lawn—make it think soil conditions are nicely moist by spreading Aquaturf MAX G across the entire area. This fantastic product helps achieve uniform wetting and maintains moisture in the newly sown surface. (Max G works great on existing lawns and flowerbeds too).
Ongoing Watering
Maintaining a moist surface throughout the germination period without hosing is going to involve some commitment by the household. You'll get best germination results from daily irrigation with a fine spray—so get hold of a watering can with a fine rose.
Use Grey Water
Place buckets in all the household showers and use this to water the lawn daily. If you have washing up or laundry liquid that you can capture—use it because the soapy aspect won't affect grass growing.  During this establishment phase, light, frequent watering is preferable to infrequent heavy watering. Continue this practice until your lawn has germinated and is several centimetres high.
Question: What type of lawn do you want during lockdown?
Answer: A level one.