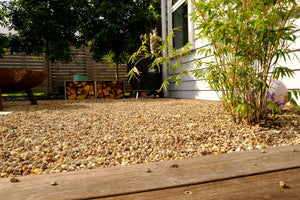 Make your garden pop with Waikato Fleck pebbles
Our Waikato Fleck (also known as Hoki Poki stone) is one of our most popular pebbles for landscaping. Its warm colour tones - shades of brown, cream and gold work well with wooden edging or sleepers, or metal elements such as corten steel. Waikato Fleck pebbles offer a pleasing contrast next to modern house colours such as black and grey.
Mulching around tawny coloured NZ grasses makes the garden pop. In most garden beds, paths and driveways we recommend the 16-25mm size.
For more decorative features such as water features or garden beds try the 30-80mm pebbles. The smallest grade of 3-7mm is suitable for pipe bedding around Nova Flo coil and general drainage applications, but if you take a quick walk around Auckland's Wynyard Quarter,  you'll see this small grade being used as a mulch on the raingardens planted in this area.