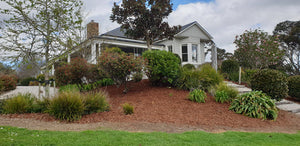 Why gardeners dig mulch so much.
This lovely country garden just got a top-up of our Forest Floor mulch. After the wet winter mulch is the best way to take advantage of all the moisture in the soil. Mulching has great benefits:
It saves water. It stops weeds. It looks great. What's not to love?
But one of the key benefits is largely unknown: over time, mulch will help improve your soil structure. That layer of mulch is enticing earthworms up through the soil, aerating it as they go. A mulch cover is key in providing a healthy environment to grow plants.
Our mulches are available by the truck-load, trailer-load or in bags.