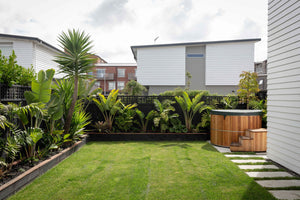 URBAN SANCTUARY FOR THE FAMILY
A busy Auckland family asked Boyd Gillespie of Zones Landscaping to create a space for them. Boyd created some raised sleeper beds filled with Living Earth Garden Mix and topped off with Black decorative mulch. The black mulch provides a pleasant contrast to the tropical themed planting. Boyd planted Tournament Blend lawn seed, which was regularly fertilised using Turfmaster Gold. A combination of pavers and river pebbles provides and attractive path leading to the vegetable garden. The owner finds this garden easy and enjoyable.

"We've been very lucky to be able to tend to the garden and to enjoy it all through lockdown. What a great investment!"