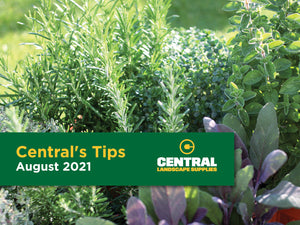 Centrals Tips - August 2021
Plant potatoes to crop in time for Christmas dinner, and get the seed sowing underway (indoors). Do some herb garden maintenance, and sow mesclun for summer salad.

🐌🐌 Snails are wintering over, so go on the attack! 🐌🐌
Planning ahead
Manage the colour of your hydrangea flowers, more pruning to do and a great time to plant hedges. Shop for trees and shrubs this month as possible shortages of varieties may loom and go looking in the garden for signs of new growth.
In the Edible Garden
Prepare a potato patch – Plant sprouted seed potatoes by digging a trench and cover lightly with soil. Every few weeks 'hill' up the soil, covering the foliage to leave only the last set of leaves.

Sowing seeds indoors or under cover is a great way to feel like you're starting the summer vegetables, even if it's still cold outside. Start tomato, capsicum, eggplant and zucchini seeds now.

Herb garden maintenance: lift and trim the roots of mint, then replant. Mint increases its root size very quickly in proportion to its foliage growth and will be invading the rest of the garden! Other herbs such as thyme and rosemary can be trimmed and tidied to make way for new growth.

Rosemary is a versatile herb for structure in the vegetable potager. Upright varieties make great hedges and prostrate types spill elegantly over the side of raised beds. Their blue flowers brighten winter gardens and keep the bees around.

Mesclun and rocket can be sown directly now, in preparation for mixed leaf summer salads.

Snails will be wintering over in old cabbage, kale and silver beet leaves. Cull them or use bird friendly bait to restrict their populations or all your new seedlings will disappear overnight.
The rest of the Garden
• Get the flower colour you want: hydrangea flower shades reflect the type of soil they are growing in: to be certain of blue flowers, spread aluminium sulphate (often sold as Hydrangea blueing tonic) around the bushes. For pink flowers, use lime around them instead. But remember, white flowers stay that way and white hydrangeas do best in light shade.
• It's also pruning time for hydrangeas and hibiscus. Thin out the dead wood and cut back to budding leaf nodes, making clean cuts.
• Late August is a great time to plant hedges and perennial borders for the summer garden. Mulch after planting and, when planting perennials, remember the snail advice given above.
• Clear areas in the garden where bulbs and deciduous plants are beginning to emerge through the soil – this exposes them to light and sun and encourages growth.
• It's peak 'tree season' at the garden centres and nurseries. This year don't delay in making your choices – most budding of fruit and ornamentals is done two years before the plants hit the marketplace and 2022 could see shortages of popular varieties as a result of the 2020 lockdown.
Tree planting
Deciduous fruit and ornamental trees are traditionally planted when they are dormant. This reduces transplant shock and allows them to come into leaf and flower as they adjust to their new situation.
Using Garden Mix or Nutra Soil in the planting hole adds fertilisers and compost to condition the existing soil. If you're digging into clay soil, add a handful of gypsum in the bottom of the hole to soften the clay pan and allow roots to penetrate. Mulching and staking will improve tree establishment as the season warms up and spring winds arrive.