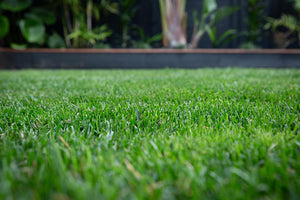 Winter Wellness for the Lawn
Do this now to encourage strong grass growth when the weather warms up!
Winter is only just beginning, and for many Aucklanders, the lawn is already a bog! The heavy rain since the beginning of 2023 has caused stress to lawns, resulting in bare patches where water pools, or bursts of weak, straggly grass growth that can be difficult to mow.
Here are our tasks that can be done now to improve the grassed areas around the property, and deliver good spring grass growth.
Stay off the lawn
Where possible, don't use the lawn for recreational activities while it is boggy. The less muddy the lawn becomes, the less work to restore the soil later. Grass needs open free-draining soil to grow best, so you want to avoid the ground becoming compacted and messy.
Toadstools appearing?
Many of us prefer to minimise the use of chemicals, but if your lawn has become inundated with fungi, applying some chemical fertiliser like Prolawn All purpose will help knock back the toadstools and restore some balance. Removing them helps, as does collecting up the grass clippings that can harbour spores.
Mow less, with the blades set high
Grass doesn't grow as quickly in winter, but a light trim will encourage it. Rather than mowing low and damaging the grass by cutting close to its roots, mow at a high setting, keeping the blades sharp.
A spell of dry weather? Add some fast-acting fertiliser
Our Prolawn All-Purpose fertiliser is the food of choice during winter – it acts faster and will give the lawn a boost, encouraging healthier and stronger plants to withstand these conditions.
Restore the biology
Organic biological remedies such as Lawnganics Vitalise and Lawnganics Roots keep microbes active and alive through cooler months- this will lead to a better recovery as the weather warms up again.
Upgrade your drainage
Unfortunately, many Auckland properties can't rely on the natural drainage of lawns and yards to remove excess water. Minimise boggy patches and water pooling by upgrading the drainage in the lawn. Other products that can host grass and create permeable surfaces are Jakmat or grass pavers.
Contour your lawn for better drainage
Check whether the lawn has obvious low spots where the water collects. These can be levelled out with extra topsoil or Lawn Mix to help move water more evenly across the entire lawn surface.
Re-sowing a lawn? In winter?
While a cold, wet winter doesn't offer the right conditions to sow or repair lawns, there are occasions when the need to sow seed is necessary. During a fine break, with a run of frost-free nights, hardier seed varieties such as Classic Rye, Tournament Blend and Lifestyle Blend can germinate in Auckland - but there will likely need to be some oversowing of seed in spring.
For more advice on lawns, check in with your local Central Landscape Supplies' Customer Service team here https://centrallandscapes.co.nz/pages/locations