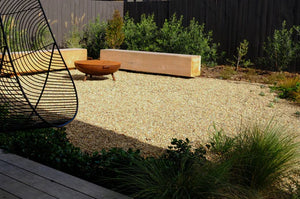 5 easy projects to manage heavy rain on your property
It's what you don't see that makes the difference. Devices that draw water from the surface allow the homeowner to enjoy beautiful landscaping above ground. These ideas below won't break the bank, but they will improve water absorption around the garden.
The field drain.
In the areas of your property that seem to flood easily install a field drain below ground to help dissipate the flow. Before digging any trenches, make sure you're well away from any existing underground lines. Ideally your trench should run at a slight downhill grade, so the water flows evenly. Even if you cannot achieve a downwards flow, simply installing the drain is going to help draw water down from the surface pooling. Use scoria or drainage metal for the base, lay the drain coil and backfill with more aggregate. We recommend a drain filter sock to prevent the drain coil from silting up over time.
Need more parking, but it's a mud bath in the rain? Lay Jakmat.
Jakmat is made right here in New Zealand from super tough, recycled plastic. It's a more permeable alternative to concrete and strong enough to use for driveways, parking spaces and paths. Base aggregates and sand are laid over the muddy area, then the geocell (Jakmat) mats are placed and filled with pebbles, giving a designer look at the finish! All our Central Landscape Supplies yards are offering a 10% discount on Jakmat until the end of Easter 2023.
Paths as drainage devices
Laying a pebble path, as opposed to a hard surface such as concrete or paving, offers better permeability and drainage to manage areas where water builds up, but access is essential. Base preparation with a good layer of GAP metal before laying pebbles is essential. A great designer trend that aids accessibility is to embed sleepers (concrete or wood) for stepping across.
Wrangle the rain with a backyard raingarden
Drainage solutions can be beautiful – raingardens are a pleasing combination of natural materials that function as drains but look like ordinary gardens. Choose a gently sloping location where the water naturally drains. This type of garden has a soakage pit with sloping sides and a raised edge on the lower side. The pit is filled with raingarden soil mix and topped with a heavy mulch. Raingarden mix has a high sand content allowing it to absorb and hold water for longer than most garden soils. Plant hardy native plants or grasses into the mix to disguise the fact that this is a clever drain option at work!
Urban wetland - planting NZ's most water hungry plants in boggy areas
Sometimes the most sustainable landscaping solution is to embrace the wet. Turn that boggy patch into a mini urban wetland where water-hungry plants will thrive. Then place boulders, rocks and pebbles around the area to add interest, suggestive of a riverbed.
Once the drainage solution is in place, there's greater peace of mind when the tropical downpours arrive! Visit our Central Landscape Supplies yards to get more information on the right project for you.