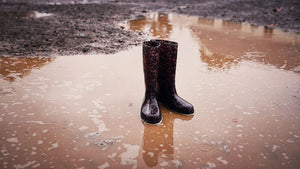 Flooded? Landscaping ideas to make your garden more resilient
The Auckland floods have caused immense damage to homes, gardens, parks, and property—disrupting lives and putting even more stress on housing, transport and household budgets. These extreme weather events are undoubtedly increasing in frequency and severity, so what can we do to make our suburban landscapes more climate resilient?
Property Assessment
As a homeowner, now is the time to assess your property's weather resilience. What were the flood-prone areas? Where did the water come from, and where did it go? How did the drains block? Why did the gutters overflow? You may need to work together with your neighbours to develop better drainage solutions.
Permeability
Hard surfaces such as paved areas and concrete paths can collect large amounts of surface water during a deluge. Normally this water flows to a drain, but in stormy weather events, these drains often get blocked by debris or just can't cope with the volume of water being channeled to them. Adjacent permeable surfaces made using GAP base and a surface of decorative pebbles can help soak away rainwater into the subsoil, so it doesn't pool as quickly.
Pictured above: Holland Flowpave
To achieve permeability on a hard surface the Firth permeable paver, Holland Flowpave, is available to order from our yards. Several Central yards stock the mandatory WAP7 metal for the sub surfacing for these pavers. Any permeable system should also be designed in consultation with a civil engineer or architect to ensure compliance with council regulation for storm water management.
Jakmat
Jakmat is another solution to achieve permability and beauty simultaneously. Jakmat converts muddy, messy areas to a pleasant aesthetic with the functional requirements of utility areas. Using a well prepared base to manage drainage, only the attractive pebbles filling the mats are visible on the surface.  The Jakmat laying process is simple to follow & very quick. Watch a video of the process.
Soak Holes - Renovation
Some older homes in Auckland are not connected to the stormwater system—the downpipes empty into soak holes that might be well silted up and underperforming. Blocked soak holes can be cleared using a vacuum truck, but with a lifespan of 40 to 50 years, many of these soak holes across Auckland now require cleaning out and re-filling with scoria and drainage metal.
Field (French) Drain
For areas that become seriously waterlogged during heavy downpours, installing field drains to manage the water is an effective solution. A field drain can be easily installed by the homeowner as it's a simple trench filled with gravel or scoria with a perforated drain coil pipe that redirects water away from the problem area. Check out our blog article on building a field drain. Our yards can supply all the necessary materials, including drainage metal, scoria, drain coil and filter socks.
Swales
Swales can vary from simple ditches that help direct water, to more complex constructions that include vegetation that helps filter stormwater sediments and contaminants.
Photo courtesy of Saxon Holt/photobotanic.com
Some swales are lined with rocks to help slow water flows then Garden Mix or other soil blends are added to nourish water tolerant plants such as NZ oi oi and Carex virgata. A well-designed swale not only improves stormwater management, it becomes an attractive landscaping feature. 
Rain gardens
Where swales are designed to slow down rainwater along a linear path, rain gardens capture, store and filter rainwater in a circular 'bowl' and soak it into the ground. Rain gardens are a step up from a swale and must incorporate rain garden mix, Blackgold mulch, sand and/or rock layers and an under-drain system. All our yards stock these products that are essential layers in the construction of a raingarden.
These are relatively simple landscaping projects that can aid the drainage performance around the home, particularly now there is a trend to more torrential downpours in the Auckland region. For more extensive drainage work it pays to contact drainage specialists and engineers.